5665
Production of large quantities of T cells is an essential demand for the development of immunotherapies. However, ex-vivo culturing of T-cells is very inefficient, resulting in high cell death rates. The current technology offers unique, optimized conditions that allow increased T-cell proliferation while enhancing their functionality.
Background and Unmet Need
Culturing and expanding T cells ex-vivo while retaining their functionality is an essential requirement when developing cutting-edge immunotherapies. A significant problem frequently faced by the industry is the low number of T cells available for adoptive immunotherapy and the difficulty to retain their functionality following extended incubation and expansion ex vivo. Specifically, T-cell cultivation commonly leads to short-term cell proliferation, followed by gradual loss of functionality, growth arrest, and increased cell death. Consequently, there is a strong need to develop novel technologies that could increase T-cell proliferation while maintaining or even enhancing their functionality.
The team of Prof. Geiger identified a set of conditions that mimic the natural immune niche resulting in increased T cell proliferation and functionalization in vitro.
The Geiger research team discovered that coating the culturing vessels with CCL21 and ICAM1 created a synthetic immune niche, leading to a significant increase in the growth of murine CD4+T cells. The addition of IL6 to the culture medium further increased the number of viable CD4+ T, providing an approach for efficiently generating antigen-specific immunotherapeutic CD4+ T cells1. Similarly, the team found that substrate-immobilized CCL21 and ICAM1 stimulate the expansion of murine cytotoxic CD8+ T-cells. Moreover, these conditions also elevate the cellular levels of granzyme B expressed in these cells, resulting in an improved killing of cultured cancer cells and markedly elevated tumor-suppressive activity in vivo.2 To conclude, the new combination used by the team resulted in a considerable increase in the number and function of viable T cells after a few days in culture.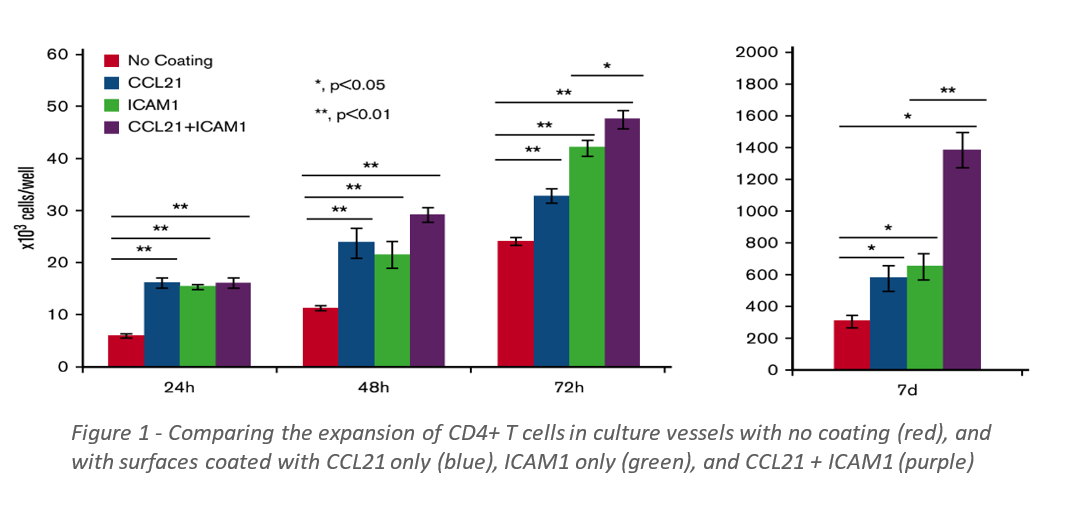 Advantages and Advantages
Expanding large quantities of CD4+ and CD8+ T cells ex-vivo (for example tumor infiltrating T cells (TILs) from biopsies) to facilitate cancer immunotherapy applications
Producing highly functional antigen-specific CD8+ T cells for tumor suppression.
Capacity to stimulate functional CAR-Ts and TILs.
Specific – Co-culturing with antigen loaded dendritic cells allows antigen-specific T cell expansion (e.g. cancer neo-antigen T cells).
The team of Prof. Geiger tested numerous conditions on murine CD4+ and CD8+ T cells to define the optimal "synthetic immune niche" for growing said cells. The team has performed in vitro tests to increase CD4+ and CD8+ T cell expansion and function and has further tested the cells in vivo in an adoptive immunotherapy animal model. Lastly, the team has validated the SIN platform in human CAR-Ts and TILs.
References
1. Adutler-Lieber, S. et al. Substrate-bound CCL21 and ICAM1 combined with soluble IL-6 collectively augment the expansion of antigen-specific murine CD4+ T cells. Blood Adv. 1, 1016–1030 (2017).
Adutler-Lieber, S., Friedman, N. & Geiger, B. Expansion and Antitumor Cytotoxicity of T-Cells Are Augmented by Substrate-Bound CCL21 and Intercellular Adhesion Molecule 1. Front. Immunol. 9, 1303 (2018).
Patent Status:
USA Published: Publication Number: 2020-0071669-A
Contact for more information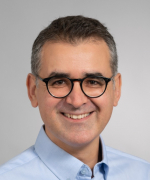 Dr. Elik Chapnik
Sr. Director of Business Development, Life Science
+972-8-9344374
Linkedin