Prof. Alon Chen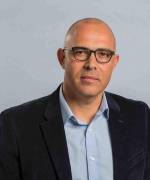 Prof. Alon Chen assumed the position of the 11th president of the Weizmann Institute of Science on Dec. 1, 2019. He was Head of the Department of Neurobiology from 2016-2019.  He was also Managing Director and Scientific Member at the Max Planck Institute of Psychiatry, Munich, Germany and served as the Head of the Max Planck Society - Weizmann Institute of Science Laboratory for Experimental Neuropsychiatry and Behavioral Neurogenetics. He is an adjunct Professor at the Medical School of the Ludwig Maximilian University, Munich.  
Born in Israel in 1970, Prof. Chen received a BSc in Biological Studies, with distinction, from Ben-Gurion University in 1995, and a PhD from the Weizmann Institute of Science in 2001 (Direct PhD Program, with distinction). During his PhD studies, Prof. Chen also received an MBA from Ben-Gurion University. He was a postdoctoral fellow at the Salk Institute for Biological Studies in California, where he started researching stress. In 2005, he joined the faculty of the Weizmann Institute, in the Department of Neurobiology. At the Weizmann Institute, he is the incumbent of the Vera and John Schwartz Professorial Chair in Neurobiology. 
Prof. Chen's research focuses on the neurobiology of stress, particularly the mechanisms by which the brain regulates the response to stressful challenges and how this response is linked to psychiatric disorders. The collective long-term goal of his research is to elucidate the pathways and mechanisms by which stressors are perceived, processed, and transduced into neuroendocrine and behavioral responses under healthy and pathological conditions. 
His lab has made significant discoveries in the field, including fundamental aspects of the organism's stress response and actions that link specific stress-related genes, epigenetic mechanisms, and brain circuits with anxiety disorders, depression, eating disorders, and the metabolic syndrome. Prof. Chen and his team use both genetic mouse models and human patients to ultimately create the scientific groundwork for therapeutic interventions to treat stress-related behavioral and physiological disorders. 
Over the years in his various scientific and administrative leadership roles, Prof. Chen has worked extensively with scientific boards, executive boards, elected officials, alumni, donors, and the community at large, to advance the mission of the institutions in which he is involved. On many occasions, Prof. Chen has presented their visions, missions, and values to internal and external stakeholders. He has also been responsible for approving and overseeing institutional and departmental budgets and for securing external funding support.  Prof. Chen is known for his excellent communication and interpersonal skills, strong leadership aptitude, and the ability to identify opportunities and to convert challenges into innovative solutions.  
He is the recipient of both the Rothschild and Fulbright fellowships. Upon his joining the Weizmann Institute faculty, he received the Alon Fellowship, the most prestigious Israeli fellowship for returning scientists. 
Prof. Chen is married with two children and has a keen interest in science education . 
CONTACT ME