Mr. Israel Makov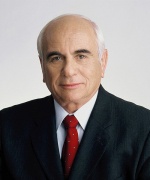 Mr Israel Makov is Chairman of Sun Pharma - the world's 5th largest specialty generic pharma company, the Chairman of BioLight – an emerging global ophthalmic company focused on the discovery, development and commercialization of products for ophthalmic conditions and Chairman of Micromedic Technologies Ltd. - a cluster of companies engaged in cancer diagnostics.
Mr Makov is the former Chairman of Given Imaging - the developer and world's leading provider of capsule endoscopy and Netafim - the pioneer and global leader in smart irrigation solutions.
Mr. Makov is the former President & CEO of Teva Pharmaceutical Industries Ltd. He led the company's global expansion and under his leadership Teva became the undisputed global leader in the generic pharmaceutical industry and a global leader in the treatment of Multiple sclerosis.
Mr Makov is a member of the Executive Board & Management Committee of the Weizmann Institute of Science, President of the Friends of Schneider Children's Medical Center of Israel, Director at Yeda Research and Development Company Ltd. and on the Board of Governors of the Technion – Israel Institute of Technology. Mr. Makov is also Chairman of the Friends of Gesher Theatre.
CONTACT ME