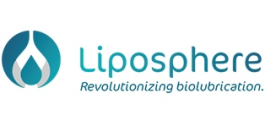 Liposphere is a biomedical start-up developing a platform of highly lubricous, water-based biocompatible nanomaterials for conditions in the human body where ultra-low friction is important.
Liposphere's formulation can be used as a pure lubricant. It also has the potential to encapsulate active pharmaceutical ingredients in the future, for delivery of pharmaceuticals to targets that are currently difficult to reach.
In addition, Liposphere's platform technology enables the coating of artificial medical surfaces such as contact lenses, catheters, and protheses, providing the potential for smooth movement in a wide range of biomedical devices.
Liposphere's first orthopedic biolubricant product, AqueousJoint, will target osteoarthritis as an intra-articular injectable. Liposphere has also developed an ophthalmic formulation for the treatment of dry eye syndrome. The formulation aims to reduce discomfort and provide patient-friendly dosing schemes due its long-lasting effect as a boundary lubricant.