5719
Anxiety and stress-related conditions pose a significant health burden on modern healthcare systems. While currently, available anxiolytic drugs can be highly effective for some patients, their long-term use is limited by their potentially severe and debilitating side effects. The group of Prof. Mike Fainzilber discovered a new central regulator of anxiety and identified the nutraceutical β-sitosterol as a potential treatment for anxiety disorders.
Background and Unmet Need
Anxiety and stress-related disorders affect 10-30% of the general population and are therefore considered a major burden on public health. Current medical treatments for anxiety disorders include drugs (e.g., benzodiazepines, selective serotonin uptake inhibitors [SSRIs]) that target various synaptic mechanisms, such as uptake of neurotransmitters. However, severe side effects and suboptimal efficacy in some patients limit long-term treatment with such drugs.
Repurposing of approved importin α5 pathway-targeting drugs and nutraceuticals for the treatment of anxiety disorders
The research team led by Prof. Fainzilber has uncovered importin α5, a protein involved in nuclear localization of MeCP2 in hippocampal neurons, as a potential therapeutic target for treating anxiety and related disorders1. Using a series of in vivo mouse models and a panel of behavioral tests, the research team identified a positive correlation between importin α5 expression and anxiety levels. More specifically, importin α5 knockout led to significantly reduced anxiety phenotypes, which were associated with marked reduction of short-term synaptic plasticity. Importin α5 knockout mouse brains exhibited a clear nuclear deficit of MeCP2 in ventral and dorsal hippocampal neurons and in increased expression of Sphk1, a gene directly regulated by MeCP2. In line with these findings, reduced anxiety was also measured in adult wild-type mice treated with importin α5 knockdown shRNA. Administration of fingolimod, an inhibitor of the Sphk1 receptor, and a drug approved for multiple sclerosis (MS) reversed the anxiolytic effect of importin α5 knockout.
Similarly, intraperitoneal injection of PF-543, a selective Sphk1 inhibitor, significantly increased anxious behavior patterns in importin α5 knockout mice. A bioinformatics-driven screen identified b-sitosterol, a widely marketed nutraceutical that could be repurposed to treat anxiety disorders. The team validated its hypothesized effect in mice (Figure 1A) and further demonstrated the synergistic anxiety-reducing effect of sub-efficacious doses b-sitosterol and fluoxetine (Prozac), an established SSRI (Figure 1B)2.
Applications and Advantages
Reduction of anxiety levels.
Treatment of a variety of psychiatric diseases
Targets a novel signaling pathway with a role in various neurological disorders
Existing drugs can be repurposed
Potential synergistic drug combinations with a SSRIs, leading to reduced dosage and improved safety profile
The team characterized importin α5 as a key regulator of anxiety levels and reported the anxiolytic effect of importin α5 knockdown. An in-depth analysis of its underlying molecular mechanisms identified Sphk1 and its receptor as downstream mediators, which, when selectively inhibited using approved drugs, validated the central role of importin α5 in psychiatric orders. Following an in silico screen for relevant drug candidates, the team flagged b-sitosterol for repurposing to treat anxiety disorders, and demonstrated its anti-anxiety effect in mice in vivo model when delivered with fluoxetine.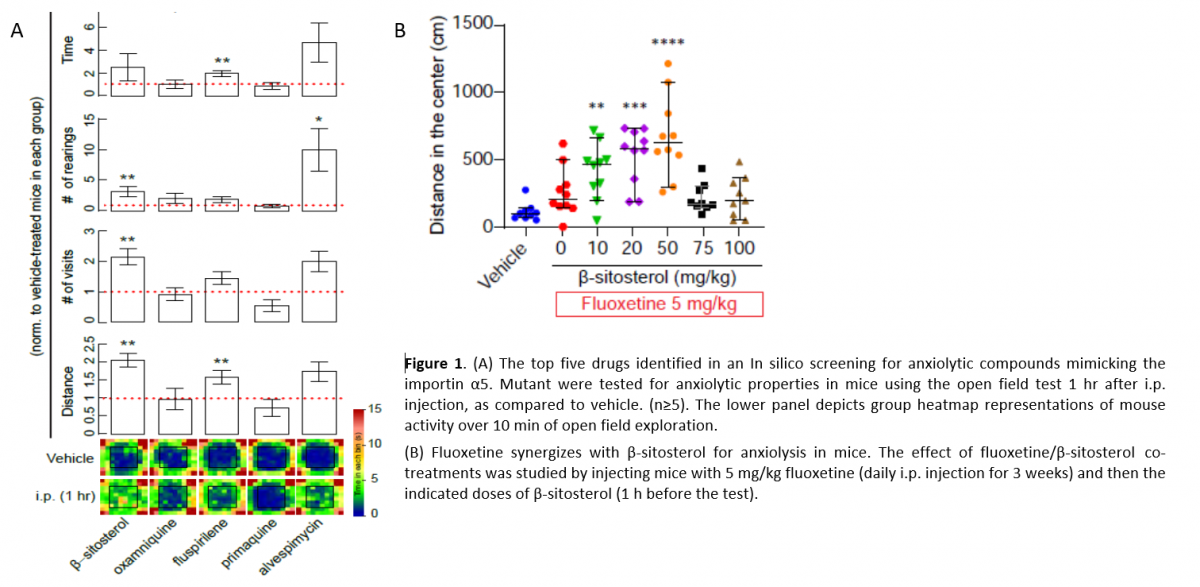 Patent Status:
European Patent Office Published: Publication Number: 3621650
Contact for more information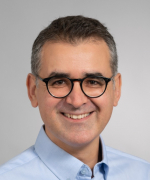 Dr. Elik Chapnik
Sr. Director of Business Development, Life Science
+972-8-9344374
Linkedin