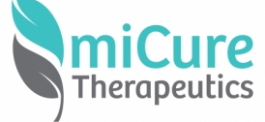 miCure Therapeutics Ltd.
miCure Therapeutics is a biotechnology company leveraging microRNA-based therapeutics and diagnostics for neurodegenerative and psychiatric disorders. Its microRNA therapeutics and diagnostics for central nervous system (CNS) disorders are based on inventions by Professor Alon Chen of the Department of Neurobiology and Dr. Eran Hornstein of the Department of Molecular Genetics at the Weizmann Institute of Science.
miCure Therapeutics' miR-135 is being developed to treat mood disorders, in particular major depression and treatment-resistant depression, a major unmet medical need with few therapeutic options currently available for patients and physicians. miR-135 targets, among others, two important gene transcripts, Htr1a (serotonin receptor-1a) and Slc6a4 (serotonin transporter), both essential for intact serotonergic neuronal activity.