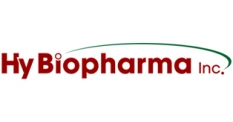 Hy BioPharma Inc
HY BIOPHARMA INC. is a dermatology specialty company focused on the development of its innovative photodynamic therapy using topically-applied synthetic hypericin with safe visible light, to treat early-stage Cutaneous T Cell Lymphoma (CTCL) and psoriasis.
The drug, HBP-347, is a culmination of 15 years of research and development carried out by Prof. Mazur and Lavie at New York University and the Weizmann Institute of Science. Hy BioPharma's vision is to bring this advanced technology rapidly to market with new drug applications (NDAs) for two FDA-approved Orphan indications. Clinical studies using HBP-347 have been performed in patients with glioma brain tumors, cutaneous T cell lymphoma and psoriasis. The studies confirm the safety and efficacy of HBP-347 in these patients.
The Company is the exclusive worldwide licensee of 13 issued and 2 pending patents for HBP-347 synthesis and clinical utility.